The Sims 2 Seasons Simlish Contest
Please note I'm currently working on the new site. I didn't want to take the site offline though, so you can still visit it. However me working on the site while it's still online means a lot of the pages will appear wonky. But not to worry, it won't take too long.

Wednesday, March 28, 2007 - 23:00
Come participate in this contest by recording your own version of Lily Allen's hit single, "Smile" in Simlish! You can even see a Sim version of the music video for "Smile"!
---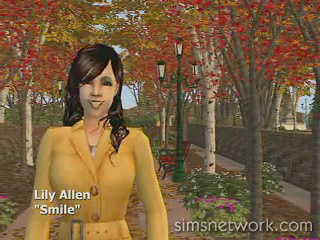 EA KICKS-OFF ONLINE MUSIC COMPETITION FEATURING SINGING SENSATION LILY ALLEN
REDWOOD CITY, Calif., - March 6, 2007 - Electronic Arts Inc. (NASDAQ: ERTS) today announced The Sims™ 2 Seasons Simlish Contest, an online music competition that unites singing sensation Lily Allen, aspiring singers and video game players from around the world. This groundbreaking contest invites would-be superstars to record their own version of Lily Allen's hit single, "Smile," at EA's online music community, SingShot www.singshot.com/SimsLily.
Fans are expected to sing "Smile" in Simlish-the native language used by characters in The Sims™ games. For inspiration, contestants are encouraged to check out Lily's own Simlish version, which is included in The Sims™ 2 Seasons, the latest addition to the popular video game franchise, The Sims. They also can get feedback on their song from the SingShot community which allows users to share their recordings with friends, rate and comment on other members' tracks and customize recordings with photos and videos.
Lily Allen will personally choose from among the top three ranked songs to select the 1st and 2nd prize winners. The 1st prize winner will receive a prize package valued at approximately $1390 and the chance to record a song in Simlish for possible inclusion in a future The Sims™ 2 video game. "Recording 'Smile' in Simlish for The Sims 2 Seasons was a fun experience!" said Allen, offering up some advice to entrants, "Singing in Simlish encourages you to be creative and to indulge your sense of humor-two things I love doing in my music."
Additionally, fans can check out a Sims-animated video for Lily Allen's "Smile" by visiting www.thesims2.com.
The winner would become part of an exclusive circle, over the years, some of the world's top talent including the Pussycat Dolls, Depeche Mode and Black Eyed Peas have recorded their hits in Simlish. "The Sims games are among the most popular in the world, having sold more than 85 million games to date," said Steve Schnur, EA's Worldwide Executive of Music and Marketing. "Lily Allen is one of the most exciting new artists we've heard in quite a while, and we're proud of this opportunity to expose her to one of the biggest and most enthusiastic audiences imaginable. Unique new talent deserves the ultimate showcase, and Lily Allen and The Sims are the perfect fit."
For more information about Lily Allen, please visit: www.lilyallenmusic.com
For more information about SingShot Media, please visit: www.singshot.com